Brooke "Dodger" Leigh Lawson is a YouTuber in the Polaris network and the face of much of the content on the main
Polaris
channel.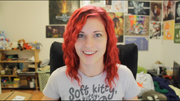 Lawson grew up on a farm near Molalla, Oregon and attended Molalla High School. It was there that she first met Mike Lamond ("HuskyStarcraft"). In mid 2010, during a time in which she only had to finish one last class to get her college degree in Technical Theater, she started her YouTube channel PressHeartToContinue as a gaming news channel. Her friend Husky pointed his fans to her channel and also gave her encouragement and advice. Less than a month after the start of PressHeartToContinue, Husky invited her to become a castmember of Maker Studios' then new The Game Station (rebranded "Polaris" in 2013) YouTube channel. Because of this, she moved from Oregon to the Greater Los Angeles Area and shared an apartment with Husky and Rosanna Pansino. This flat-sharing arrangement lasted until mid 2013, when she moved to another apartment.
In February 2011, she started her second YouTube channel, DexterityBonus, which features her (almost) daily vlog "Coffeh Time".
She is currently married to Sam "Strippin" Thorne (of Yogscast).